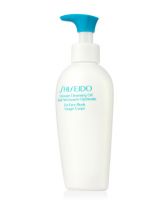 Shiseido Ultimate Cleansing Oil
As low as
leaves behind a clean feel not oily.

This is a great cleansing oil and does what it says.Does not leave behind any greasy feel.

Removes makeup, but definitely not for dry, sensitive skin

Since I use a waterproof sunscreen, I needed a cleansing oil. I turned to this, expecting no problems. First off, it does a great job removing all the makeup and sunscreen from my face. Of course, I use a gentle cleanser to remove the residue. Everything seemed fine. However, after 2 weeks of using this, i realized that it did not agree well with my combination skin; my forehead, the tip of m...read morey nose and the skin above my lips became extremely dry (areas that used to be extremely oily for me). And when I applied moisturizer, my face burned and turned red. I've also realized that this product clogged up my pores. I didnt want to admit that this product was the culprit because it did such a great job removing my makeup, but I'm pretty sure this is not good for my skin. I have not had these problems before using this product. Also, the ingredients include mineral oil and alcohol--two things that definitely don't agree with my skin at all. I definitely don't think it's worth the price. Honestly, I feel the reason why Sephora doesn't market this product is because of its harsh ingredients. My experience with this hasn't been good. Will definitely not repurchase.

A great product, worth the price

It cleanses and leaving your skin feeling smooth and silky. One of the best!
Back
to top