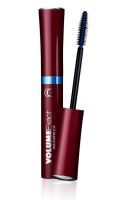 Don't As Advertised

Simply put this stuff isn't great. I found it didn't give my lashes volume. It did separate them, but didn't make it look like I had any more lashes than before. It does give a natural look, but does not provide the advertised results. The brush I found very difficult to use. It is small, very spiked, and at an angle. The spikes are short so you have to get the brush in really really closely and I...read more always end up stabbing myself in the eye. The angle of the brush is also difficult. Though the product is waterproof, it flakes under the eye which kind of defeats the purpose.

Not so bad

I'm very picky when it comes to mascaras because I just can't seem to find the right one. This one comes close to what I want, but there are some things about it that I don't like. First, it really does volumize my lashes. The downside is, like most other mascaras, my lashes uncurl when I apply it. I'm Asian and I have sparse, straight lashes and I just can't seem to find a mascara that doesn't un...read morecurl my lashes after I apply it. I have to curl my lashes after I apply and let them dry. But after that, my lashes look thicker and even longer. I like the brush because it doesn't make my lashes clumpy. It separates yet thickens my lashes at the same time. It would be perfect if I didn't have to curl my lashes again after applying the mascara.

Excellent!

I have pretty long lashes to begin with, have tried TONS of other mascaras, and always buy waterproof. But I love this stuff. I generally like Cover Girl waterproof mascaras in general. No mascara is perfect, but this definitely enhances and lengthens my lashes and goes on and off easy!
Back
to top