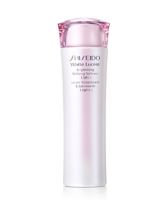 Shiseido White Lucent Brightening Refining Softener Light
As low as
Like!

I like this product, i use the whole line and i love how my skin feels and looks, my dark spots have gotten lighter. i like how you only have to use a little bit and it goes all over your face, so the bottle is worth its price since it does last. It has a luxerious smell to it like exactly like the other products in this line, and i like it. It does not irritate my skin or dry it out. i have norma...read morel skin type, but sometimes products dry my face. As soon as you apply it, it soaks in shortly so there's not a lot of waiting for it to dry. It does make my skin feel softer and i like it. I haven't tried it alone i usually wear the whole line so i don't know what benefits or differences it makes by itself. I like it!

Not sure

I have been using this for a week and really can't tell if it works.

The whole line is amazing but...

The Refining Softener is what really makes the difference. I suffer from eczema and its on my face. This softener really exfoliates gently and does not dry like an astringent The whole line has made my eczema and dark spots slowley go away.