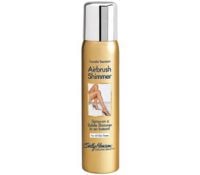 Legs Look Like barbie status!!

This stuff truly makes your legs look like you're wearing nylons...... absolutely beautiful...... The only thing I would change is a little less shimmer maybe!

Works winders

It works looks natural and it has a little bit of shimmer but it looks sexy I have try tones of self Tanners this one is the best!!!!

Most flawless skin you will ever have

I was blessed with naturally good skin. I have never really had any breakouts. My skin though does have some uneven tones and this makeup is the best I have ever found. I rarely wear makeup because I don't like how heavy it feels on my face. This is perfect! It igoes on incredibly light so you can't even tell you are wearing any and it looks so great you don't really need any other makeup to wear. Best when you need to look great and are in a hurry.
Back
to top