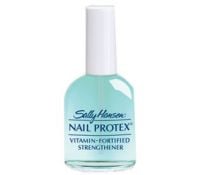 Does improve strength

This did strengthen but I need more from a Sally product. The 4 in 1 is the best, it does it all!

Like new

that is how your nails will look. a real miracle worker

Buy it!!

I never usually write about any products, but this product is the best so far. I've been trying to grow my nails since July of last year, but to no avail. I've tried Sally Hansen's miracle growth, the 4 in 1 treatment and everything else. I spent dollars after dollars also. Then a few weeks ago, my husband comes home with this product, and ever since my nails have grown beautifully. Even wher...read moree I get my manicures done, they have noticed and said that this was a good product. I definitely would recommend this product to everyone. I get manicures done every two weeks and I've been using it as a base and a top coat. It actually makes your manicure last longer and still have a shine to it. Last not but not least, it's cheap!
Back
to top