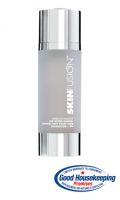 sounds too good to be true, and it is.

The color dried way too orangey and streaky, i had a foundation line around my face. and it settled into the little lines around my eyes, i'm 24 and it made me look 35! It had no coverage, you could still see every little freckle and blemish. I was so dissapointed.

The proof is in....the mirror!

I was skeptical. I mean, there are SO many products making BIG promises. It can be overwhelming, AND expensive, trying to separate the authentic from the false promises. I hadn't heard of SkinFusion Soft Focus Fluid Foundation until I saw it at Ulta. A liquid mineral sheer foundation claiming intuitive, customized coverage, and radiant, glowing skin. I purchased the light/medium and went home ...read moreto try it out. The foundation is light lavender-ish, gray in color. I applied it to my face and...could not believe my eyes! No fake color. No actual color at all. It looks like my skin....only better! Not completely poreless, but very close to it! And the radiance? Yes. SkinFusion Soft Focus does make my skin look noticeably and wonderfully more radiant. It evens out my skin tone, too, to the point where wearing concealer isn't a "must". The only disappointments - the day after I bought it, the pump became dislodged from the tube that brings up the foundation, so I had to remove the bottle from its outer shell and tip the bottle over slightly to get it out. The other disappointment is, because the actual bottle containing the foundation is housed inside another, it appears as if there's a little more foundation in there than there actually is. But I'm sold on this product, and will purchase more - and, because of its authenticity, I'm inclined to check out the rest of the line too!

Not magic in a bottle

This product is like a tinted moisturizer that adjusts to your own skin tone. It has little inviso-beads of color that darken when you rub it in. This is not an innovative product, Estee Lauder's Daywear SPF Self adjusting color does the same thing and has been around 20+years. Thanks to clever marketing and containing "Real Gold" this garnishes a price of almost $60. Not worth it, in my...read more opinion. Also I feel that it only works best on fair to medium skin tones. It would look ashy on any deeper skin tones.