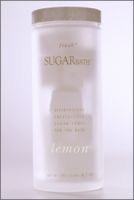 Fresh Sugarbath Cubes
As low as
Relaxing quality bath sugar cubes

Love Fresh's products and the bath cubes are one of my first Fresh product purchases ever. Only issue is that they have had the same 2 scents for years - I wish they would add more scents like tangerine, lavender, etc. Also, they are pricey - you get about 1/2 dozen baths out of one container that is like $30.

Sooooo Relaxing and Fabulous Smelling!

I Love these Lemon Sugar bath cubes from fresh! The Lemon Sugar eau de Parfum is my favorite summer scent so soaking in a bath with these cubes and then spritzing on the spray after leaves me Clean, Soft and Delicious smelling! These cubes have bicarbonated soda and citric acid so they slough off your dead skin cells. The cubes are also made of Brown sugar (known for healing properties and ward...read moreing off bacteria back in the home-made medicine days)and are enhanced with skin softening Shea butter, Aloe and vitamins A & E. These crystallized cubes of bliss are packed with natural, good for you stuff not to mention that they SMELL Fabulous! Italian Lemon, Mandarin Orange, Orange Blossom, Ginger Flower etc. This stuff is Awesome! The only drawback is the steep price for what you get! A little pricy but if you want to just spoil yourself, then try this out! Oh, and don't forget the spray!
Back
to top