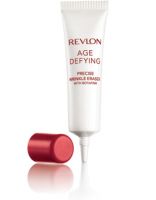 Revlon Age Defying Precise Wrinkle Eraser with Botafirm
As low as
luv this stuff..

i absoultely luv precise wrinkle eraser cuz i use it under my eyes and round my lips it works..... then ofc i use a primer.. but i have been searchin for it in stores and i cannot find it so help me pls.... i am out.. i can tell a difference.. im 55 yrs old and peeps say i look round 45 ten yrs younger.. yay.. tyty fo much for an awesome proudct..

better than before botafirm

I used Revlon Age Defying years ago and was not satisfied. I just got a sample of the new formula and I can really tell the difference. I will buy some to see if the improvements hold up.
Back
to top