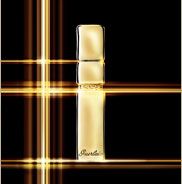 Beautiful packaging, lackluster results.

I personally do not wear lipstick, but was curious considering it promoted smoothing and plumping characteristics. The product had a pleasant orchid smell, but left a foul taste in my mouth after applying. I had a dull headache which lasted all day when using this product, though this could be a result of allergies. The product made my lips feel soft, but not hydrated and would feather off easily....read more Not to mention you get very little product (about 1/4 the size of your pinky finger) for the high price. Overall the product smells and looks wonderful, but fails to live up to its promises in the end.

Beautifully Pointless

This lipstick primer's packaging is beautiful. The golden tube is very eye-catching, but unless you want to pay $35 to do nothing but stare at it, then skip this product all together. For how pricey it was, I was expecting a lot from it, but ended up with very little. It did not make my lipstick last and if you don't moisturize your lips beforehand you will experience feathering. Another one to go into my "total regret for buying this" category.

Good primer

Makes my lips feel soft and my lipstick glides on. Makes my lipstick last all day long.
Back
to top