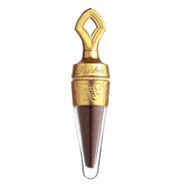 Guerlain Terracotta Loose Powder Kohl
As low as
one of a kind

I love this liner: there is no liner that can do what this one does. Besides the fancy packaging, this liner is the only one that actually stays on the waterline. It will not smudge and is not irritating. I have tried other liners and they never work on the bottom inside line. The colors are great too, I have several different onces. The trick is to learn to apply this as it can be messy but once you get the hang of it, you will be hooked.

Good idea in theory but not in practice

When I bought this product, the saleslady said all you had to do was put a drop of it in the inner corner of the eye and blink a couple of times and it would 'magically' rim your eyes with kohl eyeliner. I have never yet got it to work that way, and have made a big mess on my face trying to apply it. I'm not sure how you are expected to apply it, because there is no brush applicator, so you eithe...read morer have to dip your own brush in (and risk contamination) or pour it into your hand (which is hard to wash off).
Back
to top