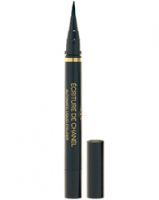 Hard to control

I had big hopes for this eyeliner, but it didn't work out. The color was good and the pigment was strong, but the delivery was bad. I've always been a liquid eyeliner girl, but I haven't had much luck with "pen" type systems, either eyeliners or highlighters. Same here. First, the initial use takes forever to get clicked out. Then the flow is too heavy on the next clicks, wasting too expensive pig...read morement, then the pigment gets watery and finally runs out far too soon to justify the price. At the dregs, the binder dilutes the pigment, so it's more grey than black. The fact that it separates bothers me a bit at this price point.

Best Ever!

i have used this eyeliner for a long time and it is the best automatic i have used. well it's the only i have ever used but i will never change eyeliners. it never clumps or dries out like the reviews i have read for MAC. it is messy when you are first learning to use it but dont give up, it just takes practice. all chanel products are pretty expensive but they all last a pretty long time. so try...read more buying them in steps otherwise unless you have the money you will end up spending well over 200 for your basics.

awsome

this liquid eyeliner is the best ive ever bought. its kinda pricy but i think its worth it. i like how its a click turn and the liquid comes up. and its lasts a long time when i wear it.
Back
to top