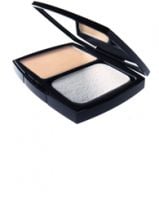 Divine Complexion Takes One Step

Primer, Foundation, Setting Powder. That's three steps. This takes just one by buffing this on the skin with a large powder brush, you're set for the day and I do find this impressive in the lasting performance. Now, if your skin is extremely dry, this will accentuate parched skin and may even settle into wrinkles but the trick is to use an emulsion that the skin will absorb and soften the text...read moreure and apply this and it will have an airbrush finish with an airy light touch and to give this a dewy look, a tip is to dampen (not soak) the sponge and gently pat it over your finished complexion and it should moisten the overpowdery matte appearance into a more dewy angelic face. However, let's balance the price though. I'm sorry to pull some people out of the floating clouds but at a price like $50.00 a compact and this only lasts a few months, you'll end up splurging more than you'll have to on a luxury but not a definite need of foundation because equal quality of this foundation or alternatives are about half price. The color selection can also be limited. I've found that I'm in between two of the shades they offer and there isn't a combination option so after I tanned a bit one summer, I was pretty much out of luck. C'est la vie, at the best, this is getting a six because I'm back on earth and being realistic.

Flawlesa

I love this powder. It gives a flawless and soft look and looks super natural on your skin. It stays on for long time unless you have a very oily skin then you might need to use other products to control your oil after few hours. it gives light to medium coverage and does not break out your skin. It gives you clean skin look. Now who doeant want that? I highly recommend this if you are looking for everyday makeup without doing too much. you will get alot of compliments on your skin :)

great!

i originally posted a review on this stuff that i didn't really care for it because of the smell, but after using it a few more times, i really like it now and the smell doesn't really bother me that much anymore. i guess i've gotten used to it. i have very oily skin and the more i used this, the more i noticed that it actually helps control my oil. it doesn't completely get rid of all of the oil,...read more but it seems to cut it down a lot. i will definitely buy this stuff again when i run out. the only thing i don't like about it is that the pan is a little small so makeup flings out everywhere when i used my brush with it (i don't use the sponge that comes with it. i find it makes my skin really flaky when i run it over my skin). very good product!!