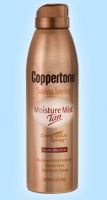 70% Amazing.

I am a pretty tan girl. In the sun, I tan pretty easy. But, I got a new job, and no longer had the time to just chill at the beach with my girls to get that summer glow. I turned my eyes to something I had very that I would need : fake tanning. My friends had always said that fake tanning was like fake hair,,, not cool. It was natural or nothing, for them. So, of course, I did what any girl in my ...read moreposse would do, I just didn't tell them. This is the first sunless tanning product I have every used. And, it was pretty good. NO orange, and I only have one small steak on my arm. I like the color, it's pretty subtle, which was amazing for me because I could build it up to my natural color. To archive my color with the light/medium Coppertone Tanning Spray it took 4 sprays all over and 7 sprays in my white areas (Abs, the under sides of my arms, back of my legs, biniki covered places) but after about 9 days, I do have an amazing sunless tan. Something that's I wasn't so amazed by when I was trying to spray the bottle with one hand, I couldn't. I had to use both which was a little awkward. I had to call my boyfriend to help me to my back. I don't smell so great, but it's not horrible, it's bearable. Oh, a tip, REALLY rub it in. The streak only happened because I didn't rub in my arms as well as I should have., But, over all, It's a good product that I would recommend. I get compliments at work on how "beachy" my tan is. My boyfriend thinks I look like Jessica Alba, (but, he's probably bias). And, my "Natural" tanning non-job friends... where non the wiser.

Better than I thought it would be

It was easy to use and lasted longer than other self tanners I have tried. Not a bad price for the amount you get.

Great color

I use this product on my legs as an alternative to going tanning. It sprays on clear and you have color within 1/2 hr. Doesn't look orangy either...turns out to be a nice glowing bronze. I definitely recommend it.
Back
to top