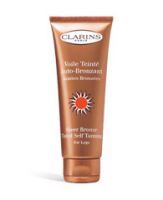 self tanner

I had a problem with the tanner staying natural. It turned orange on me after using for a few days. But it did look nice before it turned orange.

Superb Tan that looks like the real sun.

The first time I used this product I was amazed at the color. The only thing I recommend is to exfoliate before using. Dead skin cells absorb more than new cells. The color lasts and lasts. I enjoy the healthy look of a tan and Clarins provides this with this product.

Nice product, recommend!

I have used several of the Clarins Self Tanners (face, body and leg tanners) and I have found they are some of the best on the market. They don't have an overbearing fragrance, they are easy to get an all over coverage, easy to blend in and last for 4-5 days before reapplication.
Back
to top