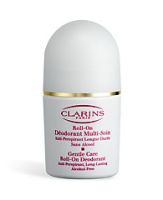 Clarins Gentle Care Roll-On Deodorant
As low as
Forget that grocery store deoderants

I confess, my deoderant was usually a grocery store pick. After years of applying baby powder scented deoderant, I found that sometimes my deoderant's scent OVERPOWERED even your your parfum? Forget that dime store experience, treat yourself instead to Clarins Gentle Care Roll-On Deoderant. Scented ever- so-lightly, Clarins deoderant uses a roller ball delivering a perfect application every time.

Gets rid of BO, but not a great anit-perspirant

Got rid of any bad scent, but my arm pit was sweaty within 2 hours.
Back
to top