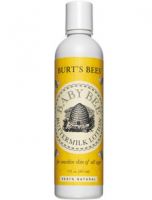 don't have to be a baby or mama to like this

I absolutely love everything about this lotion. It absorbs easily, no greasy feel, a lightly sweet scent, and make skin so soft. And of course it's natural.

The best for sensitive skin after shaving!

I have such sensitve skin and after shaving, putting any kind of lotion--even the kinds that claim to be 'fragrance free' or for sensitive skin--make my skin itch and burn terribly! I had a sample size of this for the longest time and hadn't used it and decided to finally try it. I was THRILLED that my skin didn't itch or burn when I applied it after I shaved. I even noticed that I didn't get any razor bumps on my bikini line from continued use. I have to give this the highest rating!

OK

I got this as part of a baby shower gift. I love the talc free talc, but I'm not as crazy about the lotion. It is lightweight and fragrance free, but I don't like the consistency of it. It is almost too watery. Some people may like that...
Back
to top