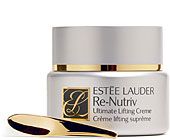 Estee Lauder Re-Nutriv Ultimate Lifting Creme
As low as
I need me a SUGAR DADDY!

Nice moisturizer, leaves skin moist, absorbs nicely, smell is not bad, but $250 is just out of the ball park. The Re-Nutriv line is nice but I need me a sugar daddy to pay for it all and even then I would have to seriously think about it.

Anti wrinkle, not anti aging

Re nutriv is a line of luxury products where you get what you pay for. My mom has used Re nutriv classic for 30 years now, and she has no wrinkles! I read reviews for the ultimate lift cream on estee lauder, and it got rave reviews. I've been using this product for nearly two months now, however, it's not suitable for people with dry skin. Moisture is what prevents wrinkles, and this cream lef...read moret my skin slightly dry. I didn't feel the moisturizing texture as the other Re nutriv creams. This cream is an anti - wrinkle cream, NOT anti aging. Here's the difference: (it took extensive research to figure this out). Anti aging is for prevention of wrinkles, to prohibit future wrinkles from forming. It does not assist with erasing of fine lines/wrinkles. Anti wrinkle, however, is mainly to conceal the lines and wrinkles you already have, it's a temporary fix that will remove the appearance of them. Once you stop using an anti wrinkle cream, all of lines will come back. This ultimate lift cream, turns out is anti wrinkle. There is very little hydration, but I gave it 8 stars because it made my complexion AMAZING! I would continue use if only it had anti aging properties as well, but I need to switch it up. Overall, this is a great product for people with normal/oily skin.
Back
to top