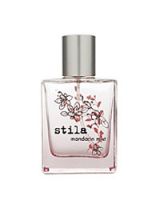 Editor's Rating & Review
Stila classifies this as an eau de parfum, but it performs more like a body splash. The scent is very light and fades to a faint fruity floral once it dries down. Notes of mimosa and yuzu fruit create a realistic mandarin orange scent. It's a girly fragrance that's perfect for a summer day. I'd recommend it for teens just starting to experiment with perfume or women who work in offices that discourage fragrance. It doesn't leave a big impression.
Reviewed by Kristen on 12/17/2007

How we review products
Smells gorgeous but has no wear time

A lot of perfumes seem like too much for a beautiful sunny spring day, but Stila mandarin mist actually smells like what a sunny spring day feels like. Though it is a light citrus floral, it still manages to feel refined as opposed to overly girly. It is a super light scent, but though it dies down fairly quickly it still lingers in a subtle and seductive way.

Smells amazing but wear could be better

Mandarin Mist doesn't come off as an eau de parfum. By the lightness and the short lasting power I'd classify it more as a body mist. I love the fragrance- it's a light, bubbly citrus scent. It almost smells fizzy, like it's been carbonated. Unfortunately it starts to fade after like 2 hours. I don't mind reapplying it but for the price I do wish it lasted like it should. It's weird, I don't have this problem with Creme Bouquet or Midnight Bloom :/

Prettiest fragrance bottle!

Stila was the first beauty brand that really caught my eye and made feminine products that I felt matched and flattered a range of skintones well. I had never tried Stila's fragrances until I saw Stila's Mandarin Mist bottle recently. As a fan of citrusy floral scents and pretty bottles, I had to try it. While Mandarin Mist isn't exactly my signature cup of tea when it comes to fragrances (I'm ...read moresuper-picky), I can definitely see it's appeal. First of all, the bottle is to die for – delicate leaves and tendrils adorn clear pink glass – and many other fragrances have since emulated this style of bottle decor. Moreover, the fragrance itself is a light citrusy floral scent that many would find appealing, though it doesn't exactly remind me of true and tart mandarin. Mandarin Mist is a slightly warmer and more floral scent than I expected, but I think it would be a great home fragrance. I recommend trying it to see if the bottle is worth putting on your countertop!
Back
to top