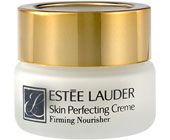 Estee Lauder Skin Perfecting Creme
As low as
Skin perfecting creme Estee Lauder ( a question for Lisa 456)

Hi Lisa, I couldn;t help but notice that we like the same cream and are same agegroup. I just bought this cream and have tried so many others but nothing worked very well compared to this . I used the Skin Perfecting Lotion in the 1980's but they no longer make it) I ownder what you use when you want to wear a lighter cream? I have tried lotions but they seem to be mattifying and I don't need that at age 41. If oyu have any advice, please do let me know. Thank you,

Light Feel, Strong Performance

I've been using this since the late 1980s! I have fair, normal skin, and I used it every day/night during my mid 20s and through my my 30s -- couldn't live without it -- until I started adding more options to my arsenal as I got a little older. It's a rich cream, but it goes on light and disappears into your skin, leaving it silky and fresh. Use it at night, and you will wake up with soft, clean, ...read moreand firmer-feeling skin. I still keep a jar on hand for when I'm not blasting my face with stronger anti-aging products (I use high SPF during the day and usually more of a treatment product at night now), and I've never been disappointed. In fact, I'm pretty sure I'd still have good skin and be happy using only Skin Perfecting Creme now . . . but I like using different things. I hope Estee Lauder never stops making this classic cream.

Moisture All Day Long

This is one of my favorite moisturizers! I have several that I have come to rely upon and this is a new addition to my beauty routine. First, the jar is total elegance. When you open it, the scent of luxury wafts to the nose. The look of the cream is velvety and pure white, inviting one to "go ahead and love me!". And now for the important part...it makes skin soft, fresh and you ca...read moren feel the moisture sinking into the skin. It really does nourish your skin and you can see and feel the results immediately. I wept when they stopped making their Hydra Complete Moisturizer but I can now dry my tears! This is a keeper!
Back
to top