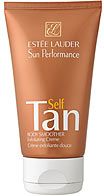 Estee Lauder Body Smoother Exfoliating Creme
As low as
Estee Lauder

This product makes my self tanner go on smoother without those ugly streaks. Love it!

What were you thinking getting rid of this product

Honestly dont understand why Estee Lauder would get rid of a product as wonderful as this exfoliator. This just left your skin smooth without any residue ready for selftanner. I have tried many many other exfoliators. Many leaves a film on the skin making the self tanner streak. It was just perfect for dry feet and elbows also. PLEASE PLEASE PLEASE BRING THIS PRODUCT BACK. I'm sure I am not the ONLY one that misses this exfoliator.
Back
to top