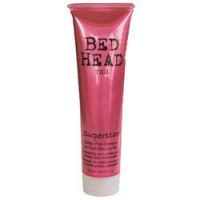 dumb blonde is better

this shampoo does leave my hair extra fluffilicious, but it doesnt moisturise the way i need it too, so i have to alternate between this, dumb blonde and an olive oil shamppo to keep my hair nice. i am amazed by the phenomenol scent of this line, it smells SO great and your hair smells nice all day. for a good overall shampoo i prefer dumb blonde but for a thicker look or a thin haired person this would be the best bet.

Works great!

What i really like about this product: it s sulfate free professional and not overly expensive love the smell and the way it lathers it gives me a clean fresh feeling without the feeling of buildup or dryness it seems to add volume You can buy them in one litre bottles or smaller bottles i will definatly repurchase this shampoo Cons Sold in the US so its harder to get here in Canada unless u order it online.

My Fallback Shampoo

I believe this has recently been renamed (perhaps reformulated) as the Styleshots Epic Volume Shampoo, and the "Superstar" is discontinued. Over the past five years, I've repurchased Superstar Shampoo and Conditioner on numerous occasions. I have mid-length, medium textured hair with highlights. This shampoo leaves my hair shiny, and manageable. I shampoo at night, air dry, then flat iron the ...read moreends in the morning. If I would blow dry, I believe my hair would have more volume, but for what I do, the volume is okay. I do believe however, that there is a residue buildup after continued use, so I always switch to another shampoo at the end of a tube. As with all Bed Head products the smell is delightful and fruity and the cost is reasonable. Overall, this is a consistent product that I enjoyed using.
Back
to top