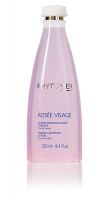 I love this toner!

This is a great alcohol free toner that I use after I've cleaned my face to remove any trace amounts of makeup. It also does a great job removing my eye makeup. It has a subtle rose fragrance to it and I love how it leaves my skin feeling refreshed. I've purchased many bottles and have no plans on stopping.

Not Too Impressive

I received this as a free gift and decided to use it as a toner after my normal cleansing routine. Meh..nothing good to speak of. I'm definitely not a fan of the rose scent and didn't care for the way it left my combination skin feeling quite tight and somewhat dry. Somewhat refreshing on a hot day when I'm sweaty, I've used it after a workout too just as a quick alternative to washing my face, but again, not impressed. I will definitely not purchase a full size.

This is a fantstic normal skin/sensitive skin toner

Don't look to this product to do your exfoliating - this is a soothing and refreshing toner that does smell like roses but not like my grandmother or anything. I disagree that eye makeup cannot be removed with this product alone as I often use it for just that, however, my mascara is not waterproof. It's pricey but worth it.
Back
to top