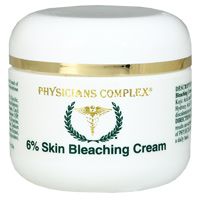 Physicians Complex 6% Skin Bleaching Cream
As low as
Even skin tone

I am using this to even out skin color due to vitiligo spotting.. Seems to work fairly well for a non prescription.

My dermatologist recommended this

I'm using this to improve the blotchiness of my chest due to sun damage and to lighten a few spots on my face, and it seems to be working after only two weeks. It is a strong formula with an ingredient that I believe is banned in Europe, so use sparingly and do your research before using it.