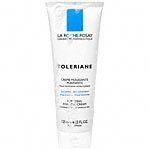 La Roche-Posay Toleriane Purifying Foaming Cream Cleanser
As low as
My only face wash for 2 years!

I had been using Estee Lauder's Splash Away face wash until they changed packaging (and it seems, formulas). I found this at Ulta and was a bit off put by the price. But, oh my, goodness. This stuff takes of my Kat Von D and Revlon Colorstay wonderfully and doesn't cause breakouts or irritation (and I have been face lasering!) Wonderful stuff! My standby!

saving grace

I struggled with bad skin since I was 12 - and have used just about every product. My doctor recommended this to me, because she says I was using products that were too harsh for my skin and from the day I started using it my skin has been less red, with much fewer break outs. It is the only product I have ever used that has tackled both sensitivity issues and blemish issues. Amazing!

Exactly what I've been searching for

I've spent my entire life addicted to having my face feel squeaky clean after I wash...but boy is that drying. Unfortunately, cleansers that were more "gentle" usually caused me to breakout because they didn't clean well enough. Well...THIS face cleanser is the perfect combination for someone like me, my face feels so clean after using it...but doesn't feel as though I've stripped it ...read moreof all its natural moisture. The foaming aspect of the cleanser is very satisfying, yet my face feels moist and healthy afterwards, with no breakouts. I literally threw out every other face cleanser in my house after using this one.
Back
to top