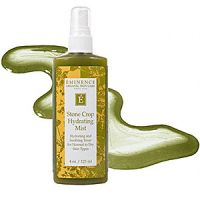 Eminence Stone Crop Hydrating Mist
As low as
Love this Face Mist

This is my 2nd favorite facial mist, I say 2nd because my rose water mist is also good to spray in your eyes and helps with eye sight. The price is about $28 at my spa and I absolutely LOVE the smell. I have all the eminence stone crop products mostly for smell purposes. Every now and then if I have a smoke or dry skin from going out the night before, I use this and constantly spray my face thr...read moreoughout the day and during the winter I spray this liberally every hours just for my benefit and preference. This mist is also great to put in a smaller atomizer when traveling on the plane. I travel monthly and the airplanes air can be so damaging and dry for the skin. This really helps to hydrate my face. It is very good to set your makeup or any skincare routine for a nice finish. I'm always buying this, but you can find it cheaper on ebay and amazon unless you need it asap and pay extra at the spa.

Smells Wonderful!

This is a great hydrating tonique for after you cleanse. I love that it has salicylic acid in it, it's great for acne and sensitve skin, and it smells soooo good!

A refreshing burst!

I love to spray this product on my face after applying make-up. It sets the makeup and puts mointure in the skin. I relly love this product because it helps my dry skin.