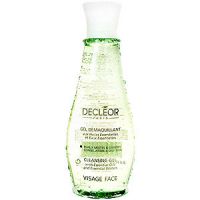 Okay...but can do better.

After getting a facial and seeing that decleor products were used, I decided to try to brand myself. I got this on sale at sephora for 40% off. I was really excited to try it. HOwever, I have used better products. I have really oily skin and tend to have clogged pores. This is too gentle for my skin. Good if you have great skin and just need a gentle cleansing, however, I suggest Shiseido's Purifying Cleanser if you have oily skin and need deeper cleansing.

gentle, but not effective enough

I have been using murad clarifying cleanser for a year or two, but purchased this because I wanted to see if a natural product could be as effective for me. Unfortunately, my breakouts have started to return since I began using this. I may keep the bottle around for days when my skin is irritated, as it is very gentle, but I will not be purchasing it again once it is gone.

Love it!

I wanted to switch to a more natural product, I love this, its so gentle I can use it around my eyes without irratation.
Back
to top