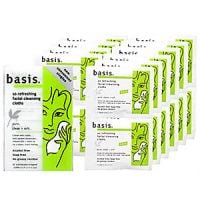 good

I like these cloths but they work as well as any other cleansing cloths I have tried and are more expensive...

I can't get over the awesome scent

I love this and the Basis cleansing wash because of the incredibly fresh, appealing scent of mint and lemongrass. Incredible. I wish it would come in body products and perfume! This is great for those nights when you are tired as all get out and just want to wipe the day away quickly. Or an excellent post workout pick me up. They get rid of dirt and makeup very well and are gentle. They don't strip my skin. Love them.

I have used these cloths for years, especially when traveling...,

I find they are expensive to use routinely when I'm at home, but these are really good cloths. Some other brands make my skin break out so I've learned to stick with this product. I wish they were less expensive.
Back
to top