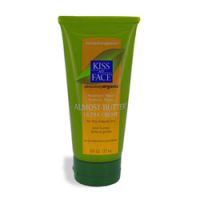 Kiss My Face Organic Moisturizer - Almost Butter Ultra Creme
As low as
This just reeks

I usually like most Kiss My Face products, but I couldn't get over the smell of this stuff. It is supposed to have a "melon-rosemary" scent, but it reeks horribly of cheap bubblegum. So weird--most KMF products are fairly mild and natural in fragrance. My boyfriend actually recoiled when he smelled me after I used this. I guess it's an ok moisturizer, but the smell is so strong and yucky that I don't know how you would ever get past it. No wonder it was on clearance.

Agree with other reviewers RE: fragrance

The fragrance in this "ultra creme" is just strange. And I'm not too sure about it's moisturizing effectiveness either. It seems like a nice sturdy cream going on, but my skin just didn't feel that moisturized. Within 5 to 10 minutes, not like it wore off.

good moisturization, funky smell

This butter definitely goes toe-to-toe with the more expensive brands, but, for me, the smell was a little too strong.
Back
to top