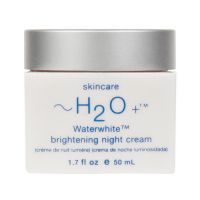 H2O+ Waterwhite Brightening Night Cream
As low as
FANTASTIC

I absolutely love this product. I have some darker areas , fine lines/wrinkles, and developed a bit of ruddiness to my face, so I thought I would try this product. Wow! I've been using it for 3 months and even my aestheticism sees the difference. My skin color is more even, the lines diminished, and overall appearance more youthful. I can go without cover-up most of the time now. Such an added plu...read mores that it protects continuously against the sun as well. Anyone looking to brighten up their skin without "treatments" should try this product.

A Wonderful Brightner

I have had times were I have been out in the sun, and stayed in it longer than intended . This brightener helps counter the effects and corrects any unwanted uneven blotches , while adding moisture . It is non clogging and non greasy. The entire H20 Plus Water White brightening System is perfect and effective in maintain and fighting uneven skin tone.