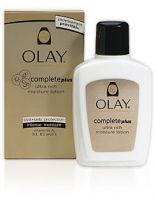 Olay

Makes my skin so nice and soft, but yet not greasy! Softness soaks right on in and stays soft.

Tried and True...

What can you say. I've been using Oil of Olay for quite some time. I've tried other more expensive brands just to see what I may have been missing, but always come back to "good ole" Oil of Olay. Another added plus...it has a great price!

Product keeps my face moist, with no shine.

I'm an older woman, that does water exercise outdoors three days a week. After class, I shower and put Olay Complete Plus Ultra Rich Moisture Lotion on my face and neck. That's all I need for the rest of the day.
Back
to top