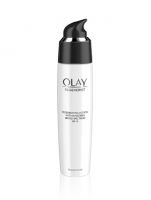 Very impressive!

I was hesitant to buy this product due to the price! At around $25 a bottle, it seemed too pricey for a drugstore, and I still think it is; however, it just plain works! I purchased this in the SPF 50 version and the texture is perfect for someone with oily or combo skin; it just absorbs so well into the skin without feeling too heavy or leaving my skin greasy. It allows me to apply makeup flawles...read moresly over the top of this product. It just makes my skin glow. I will probably purchase this product with a coupon next time ($25 still seems high for a DS product!) but have no qualms about recommending this to others or purchasing for myself in the future. It took me a bit to discover the best way to apply this product; I would first apply a few pumps into my hands and basically rub it all over my face. LOL But it didn't seem to matter how many pumps I used, it seemed like it was never enough to cover my face with enough product. After trial and error, for me, it worked best to apply it similar to foundation; putting a dot on both cheeks, forehead, chin, etc. and then rubbing in. When I apply the product that way, I can use a lot less which makes my $25 stretch even farther!

best...moisturizer...ever!!

I used this for a while and then I, stupidly, tried something else and now I have come running back to this. I am trying to remember why I ever left! This is by far the best moisturizer ever. It is a bit expensive for a drugstore brand, but it is a steal for how smooth it makes your skin. It absorbs wonderfully and doesn't cause breakouts or extra oil throughout the day. It has a pleasant smell that isn't overwhelming. I will never leave this product again!

Great Lotion

I've been a loyal Olay fan from when I was 16 years old (I'm 33 now). I find that their products are reliable, effective, affordable, and comparable to pricier brands. This lotion has done wonders for my skin. It's light, non-greasy, and moisturizes well, especially during the drier, winter months. It has actually made my skin look clearer, brighter and healthier. Best for normal to dry skin.
Back
to top