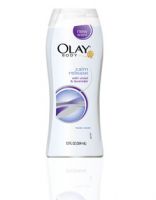 It's Good!

I mostly use Olay body washes and right now this one is my favorite!

Just love it...

I love to use this product. It moisturise my skin very well leaving it incrediably soft and smooth.

21 Best Soaps

Exclusively from the editors at Total Beauty

Get the Buying Guide to see these top-rated products!

Get it now »

Nice and Sudsy!

This body wash has quite a strong smell, but nice, that suds up quite nicely. It feels very moisturizing and almost slippery, but it contains a large amount of petrolatum (second on the ingredient list after the water) and I think that is why I feel moisturized without really getting moisturized in the end. This is my daughters favorites as she loves the heavy violet scent.
Back
to top