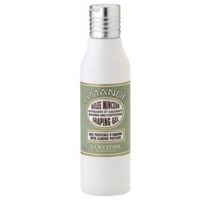 L'Occitane Almond Shaping Gel
As low as
Iffy

I love the smell of this gel and how my skin feels afterwards but I'm not sure that the results are worth the price. My only spot of cellulite in my upper-back thigh immediately under my butt. This was fun to use for the weeks leading up to my vacation where I would be in a bathing suit most of the time but not something I'll use all the time.

Works better than most, feels great!

I remain sceptical of cellulite-reduction potions. Cellulite isn't going to go away no matter what you slap o and many of these products are very expensive. This gel - which I got on sale - actually seems to help. It feels very light and cooling, with a pleasant neutral scent. You can apply another moisturizer over it if you like, though I find it's usually enough on its own. It's made a big d...read moreifference in the texture and feel of my skin (thighs and tummy) and a slight but noticeable difference in appearance. I'm almost through with my bottle, and I wil be purchasing this again. At my age, I need all the help I can get!
Back
to top