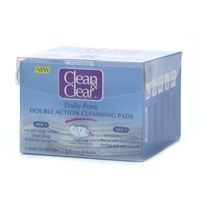 Review subject

My daughter loves these. I like them because they are portable, but I prefer my mark. face scrub.

Review subject

These work great, they are very easy to use and noticeably lift away oil

Travel Safe

I used these over a year ago & I can't find them anymore. They were so easy & nice to use! I liked how one side of the cleansing pad had a soft scrubber & the other side was a soft cotton. I couldn't use this everyday (during winter) because it dried out my sensitive skin but... I took a pack of these for a two week trip to Hawaii & they were perfect! I used them in the morning &am...read morep; night & my skin was fine. The best part was that I could dispose of them & not have to worry about spilling in my luggage to Hawaii & from home. It was a major space saver in my cosmetic bag too. They're cheap, easy to use, and travel smart. I would buy it again if I could.
Back
to top