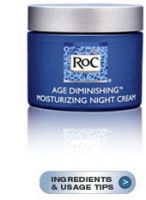 Roc Age Diminishing Moisturizing Night Cream
As low as
Best nightcream ever- hands down.

I wanted a simple night cream that would do what its supposed to, and after trying several; I am now addicted to this one. I love how it keeps my skin glowy, makes it feel soft and smells great. It really does what its supposed to...omg a product that actually works! :]

Luxurious but a little too heavy for me

I bought this cream because I was looking for a plain moisturizer to use at night after my RoC retinol serum. This didn't have retinol or anything else in it that seemed like it would irritate or overload my skin. I do really like this product for several reasons: above all, I love the scent, which reminds me of the Summer Hill line from Crabtree & Evelyn; partly due to the scent, applicatio...read moren feels very luxurious yet at the same time it seems like there's so much in the jar, so I feel like I can "indulge" when I slather it on; it does do a good job of moisturizing and relieving any tightness or flaky areas. Unfortunately, I'm pretty sure this has caused me to break out several times when I've used it on my cheeks. Maybe this is meant for dryer or more mature skin (I'm close to 30), in any case it's a little too heavy for me to use as an allover facial moisturizer. I do still use it under my eyes and on my neck though, sparingly elsewhere if needed, mostly for the scent and nice feel.
Back
to top