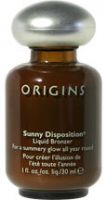 Editor's Rating & Review
"Spread sunshine on your face." Aww, who couldn't love that pitch? This liquid bronzer is easy to use because it's creamy rather than drippy; you won't suffer the streaks you get with competing brands. It looks a tad pink at first, but the effect is pure healthy glow that washes off with the rest of your makeup. One shade fits all, and works for all ages. You may find your mom trying to steal this one.
Reviewed by Kristen on 03/28/2008

How we review products
This really works

It goes on smoothly and does not streak. Put on top of foundation.

Great Glow

I really love this bronzer because it goes on thick and creamy but doesn't feel greasy. The color changes to a natural glow once applied, and it is easy to see where you have put the formula so that you have a natural look. It's made with natural ingredients and makes your skin look great.

worked well enough

this bronzer goes on smooth and lasts until you wash it off. You have to be careful to not apply to much or you look orange.
Back
to top