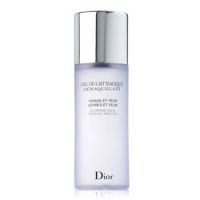 Dior Cleansing Gelee
As low as
Oily

It says it will take away waterproof makeup and lipcolor, but it didnt quite live up to its claims. I still had color on my lips and I didnt think it would be safe enough to take off my wp eye makeup since it is very thick and creamy. It leaves a really oily residue thats hard to take off. However, I like the smell of it! I would pass on this one because its so expensive and its not very good..

Not my favorite...

I have to agree with the review right beofre mine. I still had my Diorshow Waterproof mascara on and under my eyes after washing with this and I felt like I needed to wash my face with something else to get off the oily feeling! I'll give it a two only because it does smell good.

Save your money

Generally, I like Dior products, but this cleanser was a disappointment. It does not do a good job of removing make-up and it leaves a greasy, filmy residue on my face no matter how much I rinse. Not only does it do a poor job of removing eye makeup, but it's also irritating to my eyes! I tried using it in the morning, when I prefer a mild cleanser, but every time I use it, I have the urge to was...read moreh my face afterwards - not the sensation you want from a cleanser. I bought it a few months ago, have used about a quarter of it, and will probably toss it soon. An expensive waste!
Back
to top