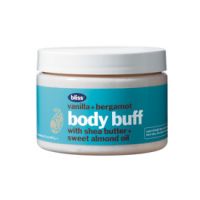 It's great to be in the buff!

We often only think of exfoliating our face to remove dead skin cells that may clog pores. However, it is just as important to exfoliate the rest of our body to keep that soft, healthy glow and improve the body's ability to absorb moisture for ongoing hydration. There are many body scrubs on the market these days and I have tried a lot! I find many very harsh to the touch and exfoliation shou...read moreld NOT be painful. A great product I have used lately is Bliss Spa's Vanilla + Bergamot Body Buff and it is wonderful! It has a sweet vanilla-almond scent and is infused with shea butter so it not only exfoliates, but also hydrates the skin to leave it soft and smooth. I suggest exfoliating the body at least once or twice a week and before applying any self-tanners to remove dead skin and prevent spots and streaking.

Decent product, horrible scent.

While I can't stand the scent of this product, I do continue to use it:) The product does soften, but it is not very exfoliating. It reminds me of using a very moisturizing body wash in a lotion type texture.

Blissful!

I use all the Bliss products, and I love the Body Buff! Not only does it smell wonderful, but it is perfect for rough patches. I wear flip-flops all summer long, and my heels take a beating. They get dry and cracked if I dont keep them moisturized. I use the Bliss Body Buff on my feet, hands, and tops of my shoulders where I get the most sun. I works amazing and I always get compliments on the smell.
Back
to top