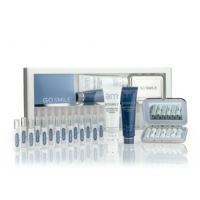 Safe for Veneers

I have veneers, and after all the money spent on them, I am quite anxious about putting just anything on them. GoSMILE is safe for veneers. I tried this before my class reunion, and it worked wonders. I continue to use the touch-ups.

Does not work at all!

I tried this kit after hearing mixed reviews. I bought it at Sephora, took it home and used it EXACTLY as instructed. I was actually almost religious about it! First, let me say that the tooth paste sizes are tiny! Like travel sizes (kinda ridiculous considering how much the kit costs). I even took test photos along the way and at the end I realized it had not whitened my teeth at all. Not even th...read moree tiniest bit. I took it back to Sephora, and they gave me my money. The cashier even said he has heard people complain about this product, but never heard a good review. Don't waste your money, but if you do,make sure to buy it from a store with a good return policy, cause you'll end up using that.

Starter Kit

I don't have white teeth and I waited long enough to finally dip in & try a whitening kit. So, I picked this one up after a store gave me a sample. I used this kit exactly as directed and yes, my teeth were much whiter & my gums were not wrecked from the chemicals. Yeah! However, with the kit - some of the vials were old and did not have as much 'juice' in them as the newer ones... I ...read moretried to explain that to the sales clerk but I was ignored. So, my only advice is to see if you can get the freshest kit if/when you do buy it. Hey, this isn't a cheap kit.. so good luck getting a fresh pack.
Back
to top