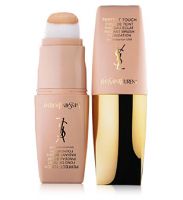 naaang

I was so nervous about buying this, because of the price and worrying I'd be dissapointed if it didn't live up to my discontinued (bastids) favourite, dior pure light. It doesnt give quite the same finish, but so far i'm really liking the ysl! the formula really makes the skin look natural and highlighted all over, and fades minor gross areas. This is only my first day with the foundation, but I would definitely reccomend it!

Soft Focus Worth the Money

All the raves from the other reviewers about this foundation are absolutely true. It gives a comfortable, smooth, even coverage that doesn't settle into lines. The soft glow that it imparts blurs imperfections--especially important for us older ladies. It's like Touche Eclat, but for the face. The attached brush is a high quality make-up brush that is easy to master, but definitely take the ti...read moreme to have an YSL consultant show you how to use it correctly. It will save you from making some silly mistakes like inadvertently squirting yourself with foundation!

Love the makeup, hate the applicator

Yves Saint Laurent PERFECT TOUCH Radiant Brush Foundation is lightweight yet it provides good coverage. It has a subtle luminescence that brightens the complexion. On the negative side, the makeup tends to separate and needs be to shaken before application. It takes some practice to squeeze just the right amount. I find the brush applicator a nuisance, as I blend foundation by stippling with my fingertips or with Beautyblender.