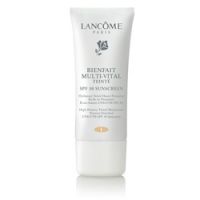 good tinted coverage

Lancome's tinted moisturizer goes on smooth and the color blends really well. Stays on for most of the day. My only complaint is that the SPF isn't really good. I got a bit of a sunburn just driving in the car while wearing it.

Great product

I started using this when I noticed bare minerals was too dry for my skin. My mom has amazing skin and has been using this product for years, so I started using it. It gives more coverage than average tinted moisturizers. Works well for combo skin.

Great combination product

I'm always in a rush in the morning so the idea of a product that combines a moisturizer, vitamins, SPF, and light color was very appealing. The product feels good on the skin, not too heavy or too light. It has just the right amount of coverage and stays on all day. I think it's a great value given the number of products it combines into one. It's also one of the few moisturizers that has a high SPF.
Back
to top