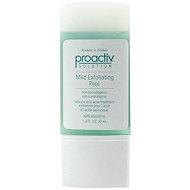 Proactiv Mild Exfoliating Peel
Does NOT Exfoliate!!!!!

This is not a peel, but rater a "roll away" mask. The instructions say that you are supposed to gently roll the mask away after it dries. However, there is no way for you to "gently" do this. After applying a thin layer (which the instructions specifically state), the only way to get this mask off is by rubbing it off REALLY hard (which just aggravates your skin and can cause...read more more breakouts) or by washing it off (which does nothing to your skin). And even if you do rub it off, it still has no exfoliating affect and does not remove any blackheads. Don't waste your money buying this product!!

The Proactiv Line Works

I've been struggling with acne for all my teenage years. I started using ProActiv at 16 and I stopped a few months later. It wasn't that the product did not work, I just could not afford the treatments. I am older now, and recently returned to try the product again. I am impressed, the system is overall immediately effective. This Mild Exfoliating Peel is perfect. It goes on smooth, when dri...read moreed, it allows you buff and clean your skin while taking away all the impurities. Since I started using it, I would recommend it to anyone. The product is expensive, but if you love your skin, in my opinion price should not be a determining factor.

Really works!

I've been using this product for a few months now. I'm 40 and have had acne since I hit about 30. This is the first product I've tried that really works. You have to use all three steps, the scrub, toner, and repairing lotion, but my skin looks a lot better now!
Back
to top