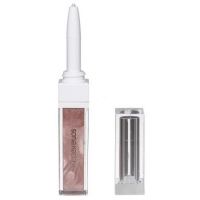 Not worth the price

Sonia Kashuk had a good idea here, but the product fails to deliver. Riding on the wave of the trend of nude to clear lipliners (straying from the dark-lined lips of the mid to late 90's) Sonia Kashuk developed a smart all-in-one lip gloss and liner kit. But the liner is waxy and not of a very high quality and the lipgloss, while sheer and pretty, has a gritty texture which doesn't last very long. Like I said, great idea, but the product just doesn't deliver.

GREAT!!

This gloss is fantastic! It goes on smooth, makes my lips feel great and isn't sticky AT ALL! And the liner is great too. Keeps my color in place with no feathering or running. And the proice is unbeatable.

My new go to lipgloss

Generally, I'm a little hesitant to buy products for drugstores since I can't try them on. But I saw this amazing peach color and figured I'd give it a try. I have never had so many compliments on my lip gloss until I started wearing Sonia Kashuk's. It's great to layer or even by itself. The more you put on, the shine just builds.
Back
to top