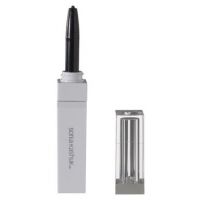 Sonia Kashuk Lashify Mascara with Liner
As low as
Does This Slice and Dice Too?

Hooray! One more first to add to the list! This product seems innovative and can be essential if it works right for you. In my honest opinion? They must have spent way more money on the packaging rather than the product itself. The eyeliner was over creamy which meant it smudged and didn't stay put all day plus it feathered and faded. What happened? Sonia Kashuk cosmetics are usually pretty ...read morewell developed. The mascara was better, it wasn't waterproof, but it was a few steps ahead of the eyeliner. The mascara was a bit runny in formulation but it did the job of lengthening and volumizing in a subtle manner though drying seemed to take longer than usual. Don't go expecting to have eyelashes like Marilyn Monroe's with this, this is more just for everyday tinting and primping. The eyeliner twists up and dispenses a bit of product and mascara just has a twisting cap which is the eyeliner itself attached to the cap and out comes the semi-thin eyeshadow brush. The final verdict? Lose it. For the poor quality I felt this product was made of, you can get a better value purchasing a separate mascara and eyeliner that is tailored to your needs and of excellence. Eight dollars will purchase you a decent eyeliner and mascara at a retail food and drug store like Target where this is from and give you much more product than what you've paid for this. As cute and dainty this product would look inside a drawer or makeup bag and you may be thinking it'll save a tad bit of hassle for the two in one feature, you may want to reconsider. Don't take my word for it; try it out yourself, of course. Everyone has a different opinion.

No longer for sale!!!

I loved this mascara and liner combo! This was an absolute favorite item of mine and I wish Target still carried it! The mascara was light and went on without clumping, giving your eyes such a nice defined look. The eye liner was super nice, very long lasting and a great dark black. I definitely would buy it again if they only sold it still!
Back
to top