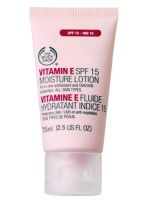 Repairing cream

This cream is like a miracle cream to my needy skin. It totally even out texture and tone. I love it! I even get compliment now on how good my skin looks.

Too heavy for facial skin

I couldn't get this off my face fast enough. I give it props for being super moisturizing and containing sunscreen, but I could practically feel it clogging my pores. It smells too strongly of sunscreen to be an every day moisturizer.

Break out city

The product smells amazing, but this line gave me a breakout that lasted for weeks.
Back
to top