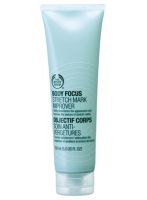 The Body Shop Body Focus Stretch Mark Improver
As low as
OK

This moisturizing lotion smells nice and soaks in in no time (so it requires virtually no drying time). Of course, it didn't make my stretchmarks disappear, but I did see some improvement in my older stretchmarks, they faded much quicker than they would have done without any product and were also smoothed a little. As for the newer ones, I can't really evaluate it, but of course newer stretchmarks...read more need more time to improve. A tube lasted me about 1 month, I suppose that you have to use it more than that if you want better results than I had.

I splurged for nothing..

while moisturizing and smelling nice, didn't do much for the stretch marks I would have gotten- regardless of anything I tired. No miracle!
Back
to top