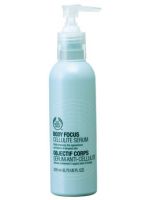 The Body Shop Body Focus Cellulite Serum
As low as
So far so good!

Hi, I had REALLY bad cellulite and i started to use it about 2 1/2 weeks ago. And I already see notable improvements. I don't know how the other reviews have applied this treatment, but here is what I did. I used 1 squirt over my knee and side of the need massaging with the round thing until dry, then did the back of my legs above the knee, then the inner thighs, the outer thigh and bum. I hav...read moree been doing this twice a day and it's at about half as bad as it was. I don't expect it to be perfect, but I am much less embarrassed to appear in a swimsuit now, and my jeans are looser around those areas. Yup it's true, but I do it religiously, I exercise (been doing that for months so this is not what helped the texture of my legs) been drinking green tea, less fatty foods and more sleep. I head stress makes cellulite worse! Hope this helps!!! If you buy it, don't be half-hearted with your efforts or you will waste your money!! :-)

Cellulite.....

I purchased this product, Body Focus Cellulite Serum from the Body Shop, really as an experiment. I didn't go out intending to purchase this kind of product. But being a woman over 40 and having cellulite since the day of my birth (I kid you not) I decided to try it. I used the product as was directed..............nada. Honestly, I've done some research, and the reason men don't have celluli...read morete is because they are made differently. Such a drag, but worth a shot I guess. I really wouldn't recommend this as I really don't think it would work for anyone!

Feels strange

I didn't get to find out if this worked because it made my skin feel strange. I had to wash it off.
Back
to top