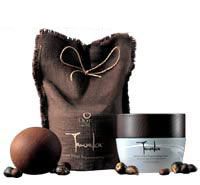 Smell is way too strong.

It was a nice cream on my hair but it took me awhile to apply it. I did not like the musky smell of it. It didn't smell feminine at all. Plus the ingredients are not as naturals you would think.

unbelievable

this is one of the best products i've ever used - my hair is really long and this makes it look beautiful

HEAVEN IN A JAR

My daughter was under the age of 1 when my grandmother discovered Tawaka. She was getting horrable diaper rashes from what we realised was from baby soaps and lotions scented or non scented. So of course I tried the noral ever so popular diaper rash creams that people swear by A+D and destityn however that made her rash turn to blisters. She was in so much pain. I decided after reading the ing...read moreredients to try Tawaka. IT WORKED, within an hour I started to see results it was amazing...by the next day her rash was cleared up. Anytime she started to show signs of a rash I would put a little Tawak on her and she had instant relief. Later after this great discovery I found that it also is a great itch stopper. My daughter had come home with what I assumed may have been flea bites...so we tried Tawaka, again the itching stopped and the bites cleared up pretty quickly, same for mesquito bites or any bites that seem to itch. We use it for sun burns as well, seems to work far better then aloe (natural aloe from the plant i have even). Its amazing! I swear by this product and have gotten many among many people hooked to it. The price is small compared to how long it lasts and everything it helps cure. Its great for mine and my daughters hair and instantly replinishes any dry skin. I have broke out in hives from illergic reaction to medicine, itching and burning like crazy so of course I run to Tawaka and instantly feel relief. I know this all sounds impossable and thats usually what all my friends think when they hear me talk about it or I request for their symptoms...however once they try it, they fall in love. Like I said this product is seriously Heaven in a bottle. I pray they find a way to not discontiue this product, i have a second child whom is not even 2 yet, and I have no clue what I will do once I run out.
Back
to top