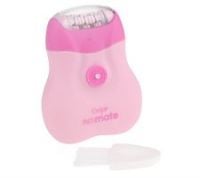 Emjoi Intimate
As low as
It works!!

I originally saw this product on QVC. I had never used an epilator so I didn't know what to expect. It's so easy! I now use this on my arms, legs & lip. If you use it often, it's less painful than waxing. What a money saver! The only drawback to this model is that it uses batteries. I have since purchased another Emjoi model that has a power cord, but for some reason, this one works the best!

Perfect for small jobs!

I love this epilator for touching up areas left behind by waxing, or when hairs are still a bit too short to wax. I use this primarily on my underarms, and would not recommend it for larger areas such as legs and arms as the amount of heads are too few--I would use a larger model with 40 tweezers and plugs in rather than runs on batteries. With that said, the batteries do last quite a long time, a...read morend as other have mentioned, it doesn't hurt nearly as much as the first couple uses. What started out as an 8 on a pain scale has been reduced to a 3 with just a few uses.

ouch but worth it

I bought this primarily for arm hair as it seemed to be a little heavier and darker than I would like, but didn't really want to shave or wax or any of that. It looks kind of scary in action, but it works pretty well. It is time consuming as it is not like a razor (does not grab a whole swath of hair) but even my boyfriend could take the level of pain. (Used on his back and shoulders to pull so...read moreme hair on tattoos) I would reccommend exfoliating first or you may get ingrown hairs, which certainly do not improve anyone's looks.
Back
to top