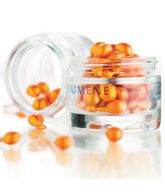 tiny caps, gigantic results

youd think, [i did] that you wouldnt have enough product to cover your face in each tiny little twist open cap, but you do. it spreads like silk over your skin and smells very citrusy and clean. your face feels oh so soft, and your makeup sets on it like its a primer. you get 28, enough for a one cycle treatment, i start the first day of my period twice a year, and i always feel like its a special...read more ritual. [for 2 years now]. i always use a vitC sreum, but these little caps are more intense, and youll really fell and see a big difference in your skin, especially if you have spots, speckles or acne. youll just seem to glow! price seems high, but its actually very fair, when you see how they work, [[ps, you get them from cvs and if you dont like them, the store takes them right back! great no risk return policy!]]

smells great

These little caplets are fun to use and they smell great. The serum has a smooth, non-sticky consistency that spreads across your face smoothly and soaks in nicely. I wouldn't say I've noticed a huge difference in my sun damage spots, but this product does make a good makeup base, it smells good and is pleasant to use, and it didn't make me break out, which is always an issue for me. Maybe with more use I'll start to notice a real difference.

Don't see a difference

After reading the reviews, I went out and bought these capsules. I've been using them for 2 weeks, and quite honestly, haven't seen any difference. They do smooth on nicely, thanks to the silicone in them, but other than that, I'm not impressed. They leave your face with a matte finish, which is nice when applying makeup, but that's about it. I'll stick to Olay products.
Back
to top